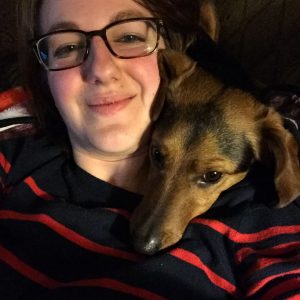 Hey, my name's Ally. I've been a Green Dot educator for 2.5 years and love working with high school students. While I love reading, I'm not a huge fan of writing (especially writing about myself). I do love making lists and crossing things off my list… so that's how I'm going to do this blog- in list form!!

Favorite thing about Green Dot: I love that Green Dot is such a different program from education programs in years past. I like that it focuses on the good in people and giving people options for all the things they can do instead of telling people what not to do. It's a very empowering program and gives people the belief that we all have a role to play in making our community safer.
Wanted to be when I grew up: When I was growing up I wanted to either be a brain surgeon or a medical examiner. I've always liked the sciences and thought that being a doctor was the best way to help people.

How I got involved in this work: I went to college at Wash U in St. Louis and ended up taking a public health class. I absolutely loved it! From there I ended up in a violence against women class which led to me to do some volunteering in family court helping petitioners file for orders of protection. After graduation I volunteered on a sexual assault hotline and was an intern at Chicago Public Schools Dept. of Health and Wellness. I then moved to NKY and started working on Green Dot! I actually applied to this job because I was at Kroger during Shop and Share and thought Women's Crisis Center sounded like a great organization. I see my work here as being an extension of my passion for public/community health.
Things I like:
Authors/Books: Jane Austen, Harry Potter, The Phantom Tollbooth, Lord of the Rings, The Wheel of Time series, most things that involve magic and/or a strong female character (both together is preferred)
Music: Bruce Springsteen, Mumford & Sons, Paul Simon, R.E.M, Airborne Toxic Event, All musicals and yes I love singing along! Elphaba from Wicked is a character I really identify with… Yes she's the Wicked Witch of the West and she's green.
Food: Sushi! Something about raw fish and rice is so wonderful : ) It's expensive so I don't have it much but I could eat sushi any time of day.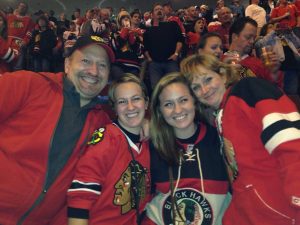 Sports: I'm a huge Chicago sports fan because I grew up in the Northwest suburbs of Chicago. I grew up loving the Chicago Cubs and as I currently write this they are in the playoffs. Fly the W!
I'm also a huge Chicago Blackhawks hockey fan. I started watching them a few years ago and have loved following them ever since. I can sometimes be seen at B-dubs wearing my Hawks jersey and watching games on a tv in the corner. If I could change one thing about Cincinnati I would ask that people care more about hockey, it's a fun sport!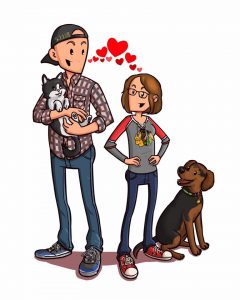 Animals: My pets Copper (beagle mix) and Loki (black and white cat). They love each other and are seriously the best of friends. I took a Harry Potter quiz to find out my Patronus and it turns out a black and white cat is my Patronus which pretty much means Loki is my Patronus. I like to yell Expecto Patronummm! as he runs across the floor and pretend he's coming out of a wand.
Thing I'm looking forward to: I got engaged to my lovely partner Ryan in May 2016. We're currently wedding planning and will be getting married in Sept or Oct 2017 (date isn't set yet)! I haven't gotten wedding crazy yet and hope to postpone that for as long as I can.

Weird/random things about me:
-I can stick my shoulder blade out so I look like a dinosaur, roar!
-I met my fiancée on the rowing team in college. He was on the varsity men's team and I was a coxswain (the small person that steers the boat and yells out timing/commands).
-I'm a crisis counselor volunteer with the Crisis Text Line. If you need support, text START to 741-741. We support people on a variety of topics including but not limited to: anxiety, depression, LGBTQ issues, suicide, harassment, substance use, and family/relationship issues.
-I've been doing yoga for about a year now and absolutely love it!
-I was dancer my whole life and have done ballet, tap, jazz, hip hop, modern, Argentine Tango, and traditional Chinese dances. My mom used to call me Twinkle Toes.
-I eat a lot of food with chopsticks, even food that isn't Southeast Asian in origin.
-With the help of Ryan, I created a pivot table on Excel to keep track of our public education stats. I love that pivot table so much : )