Hi you all! My name is Christy K. Burch and I get the privilege of leading Women's Crisis Center's prevention team. When I think about what is at the core of my being, what makes me fully me, I would have to say it is my advocacy spirit. The literal meaning of advocacy is "mouthpiece." I am humbled to be a mouthpiece for violence prevention, to witness the pain and suffering of the human spirit, and to walk along side communities and individuals who make choices every single day to keep people safe.
I have witnessed and worked alongside brilliant, courageous people over the past nineteen years. Our intersection shaped the way I do my work and how I work with others. My work does not feel like work to me. Yes – it can be harder than I ever imagined, but it is my calling, my vocation, and what feels like the least I can do for the men and women that have experienced power-based personal violence, loss, or trauma and to work with folks to make sure people don't get hurt in the first place. People are changing the world and I feel grateful to be part of that change.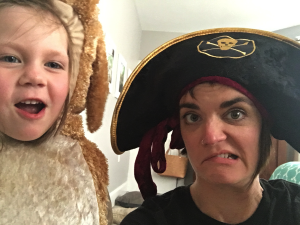 Working to end violence is obviously serious so at home the sillier the better. I try to say yes a whole lot more than I say no!!!!! Which is how I ended up playing pirate and doggie.
As we can see, I love taking silly selfies with my awesome four-year-old daughter, Honor. She fills me with complete and utter joy. And I love watching her grow, find her funny, and say things like, "we help people when they need help". As a parent I have learned there are moments that feel like epic fails, but this, my friends, was an epic parenting success.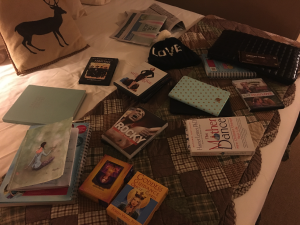 I love reading, being with my circle of friends, journaling, watching movie trilogies, wearing a hat and taking trips and planning adventures.
I'm a foodie and I love 90's country. This year I got see Garth Brooks and the Dixie Chicks!!!
I ultimately do this work to make the world better and safer for my kid. I need the world to be different for her and for those we love. I am filled with gratitude every single day and I love being part of this awesome team at WCC!!!