Hello all! My name is Jamie, and I am happy to be the first of our Green Dot GCKY team to be featured on the Staff Spotlight Series. We are each writing a small piece on ourselves so that you can get to know the people involved on our team. I've been a part of the team for almost two years now, and it seems as time passes, I keep finding more and more aspects of this work I enjoy. I really appreciate the opportunity to work with high school students and learn about their passions, their interests, and their dreams. I truly believe the ability to change the world lies in the hands of young people, and I am absolutely honored to help those people find that power.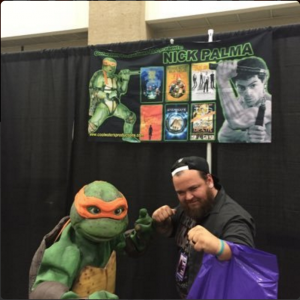 On a more personal level, I have been married for over a year now and have a kid named Jayden. As he gets older, I love watching him figure out who he is going to be in the world, and I love having the distinct privilege of getting to play a part in that influence. I have what some might call an unhealthy obsession with Teenage Mutant Ninja Turtles. I have loved them since I was a kid, and continue to love them as an adult. I also spend a ton of my time running a non-profit organization called A Voice For The Innocent. We are a community of support for people affected by sexual violence, and it has provided me with amazing opportunities to offer support to people, and actually helped lead me to my work with Green Dot.
I am a guy who loves simple things. I love to laugh and have an extremely sarcastic sense of humor. I love puns. I start every day with far too much coffee. I love spending my Sundays watching football (Who Dey!) and love writing and playing music. Autumn is my favorite season because it starts down my countdown to Christmas, which is my literal favorite thing of all…I even occasionally moonlight as Santa.
Come say hi if you see me. I love meeting people. And if you start with a great joke, I'll never forget you. Don't know one? Here you go.
What did 0 say to 8?
"Nice belt."
Heh.