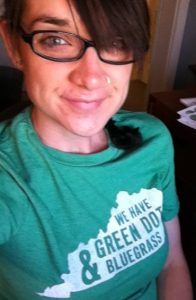 Hi there.  I'm Lori Droege, a new addition to the Green Dot GC/KY team.  I started working with Green Dot in Louisville about six years ago, but I'm excited about moving back home to do Green Dot in Northern Kentucky! It's been a bit of a long, wonderful journey where I've learned a bunch of things: I learned that Louisville has some delicious food and even more amazing people; I learned to embrace my silliness and let my creativity flow; I learned to extend some of the love that I have for the world and all the people in it to myself; I learned that letting go of control, though terribly difficult, is sometimes the best thing a person can do.
I also learned that I absolutely love doing Green Dot and working with teens.  Some of my favorite memories doing Green Dot include hearing one teen get so enthusiastic about helping ALL people in her school feel included that she was able to approach her assistant principal about changing bathroom signs; hearing another teen's parent talk about how much Green Dot has helped their son to find his voice, a voice that stands up for his beliefs and for others; playing laser tag and watching super hero movies, eating delicious food, and decorating green cookies together. The first time I heard a student call themselves a feminist was a pretty cool moment, too.  Hearing a teen advocate for how Green Dot is a reflection of their faith?  That was another beautiful moment. Witnessing teens and adults get passionate about the things that bother them and find ways to make change, witnessing them finding their voices, and seeing the literal change in behaviors among teens across the state of Kentucky that tell us violence doesn't have to be the normal of our stories.  All of these things contribute to why I love this work/challenge/job/life.
As much as Green Dot is a part of my life and my heart, there are lots of other things happening, too!  I have a family.  I have two nieces and a brand new baby nephew.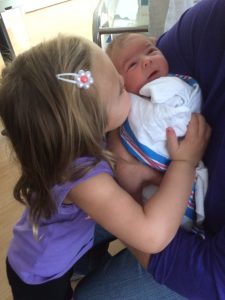 Hearing these kiddos' laughter is among my favorite things in the world, so I do all I can to make that happen as much as possible.  That could be taking them to the zoo or it could be just running around with them.  I love laughing myself, and sometimes that means I can't watch shows like "New Girl" or "Jane the Virgin" too late because I laugh too loudly while my roommates are trying to sleep.  I love reading, and Harry Potter is my favorite series ever (and that's saying something!). The Weasley twins make me laugh possibly more than any other fictional characters.  Halloween is my favorite holiday, too, and I don't think a year has passed in the last 15 that I have not, at some point in October, dressed up as a Hogwarts student.  Last year, we even got to do a Green Dot costume series with our friends at Green Dot Kentuckiana where my colleague and I dressed up as Green Dot Superheroes (that was a few days after I dressed as Hermione)!  (Sidenote:  If you're curious about how we can tie Green Dot and Halloween together, check out the blog next week for my take on it.)
Speaking of superheroes, I love the idea that we each have our own superhero alter egos.  Mine is Cupquake – a powerful, loving lady who bakes cupcakes so full of earth-shaking love that once her enemies try one of her pastry creations, they are able to empathize with their enemies, thus solving the conflict peacefully.  Nice, right?  I love hearing what other people's super hero alter ego would be, too.  If you see me at a training or just somewhere around town, let me know what your alter ego is!