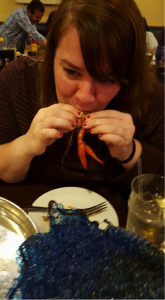 Hi all! I'm Stacey and also a member of the Green Dot team at Women's Crisis Center. I spend most of my time at Gateway Community and Technical College working with victims of power-based personal violence as well as working with students, faculty, and staff on how to make our communities safer. I've been with Women's Crisis Center for over 4 years and feel incredibly lucky to work with such a great organization. My favorite part of my job is the bystander training without a doubt. It's so fun to spend time with students, listening to their stories and experiences, and hearing their creative green dot ideas.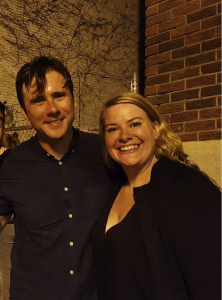 I love going on adventures and am always planning my next trip! In January of 2017 I'm going to Dublin, Ireland and can't wait to hear legit Irish music in a pub and to kiss the blarney stone. Oh, and hear some awesome accents. I've been very lucky enough to travel to many places but New Orleans is my favorite place I've been to, hands down. No competition. Music on every corner, amazing food (beignets and crawfish!), awesome architecture, and a bayou?! What more do you need, honestly.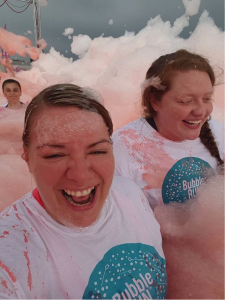 I also really love going to concerts, comedy shows, and musicals. I've cried every time I've seen the Lion King in person and have no shame in admitting it (okay, maybe a little). I have an unhealthy obsession with the Impractical Jokers and every time they tour, my friend Adrienne and I have to see them. I think our count is at 5, which is too low if you ask me! Concerts are the best though and it's always great catching a show. I think live music is incredibly powerful. Motion City Soundtrack and New Found Glory are the best bands to see live, but Jimmy Eat World is high up on that list too.
One last passion of mine is fitness. Zumba is my first love, but I'm currently training for the Queen Bee half marathon AND a powerlifting competition (because one thing isn't enough to focus on). I honestly believe exercise can be fun and nothing beats pushing yourself!
And most importantly, I have the cutest nephew in the world. Proof: